They Both Die At The End
They Both Die at The End is a touching, emotional novel that reminds us how precious life is. Through the perspectives of Mateo and Rufus, we watch them go through a whole lifetime within a day. On September 5th, they receive the most lifechanging call from Death-Cast. They are told that in the next 24 hours, they will both die today. Two complete strangers, two completely different reasons, they find each other on an app called The Last Friend App. Anxious at first, they meet up and soon feel comfortable and safe around each other. Adoring every second, they go on one last great adventure. Exploring new places, they never thought they had to visit at the ages of eighteen years old.
Discovering who they are and what life really means, meeting new people and feeling new emotions. They visit many different places, looking out for each other every step of the way. Who knows how they'll die? I highly recommend this tragic yet beautiful novel to every teenager who doesn't mind shedding some tears. I still think about this book and it reminds me to live and enjoy my life when you still can.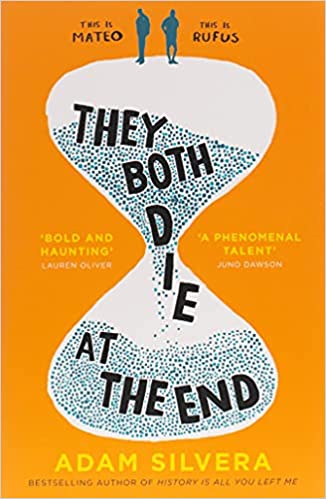 Nation
by Terry Pratchett
(Doubleday)
Mau is on the edge of adulthood so he's sent alone to the Boys' Island to prove that he is a man. But as he sails back to his home island, a huge wave rushes across the ocean and destroys the entire population. Mau is the only member of his Nation left alive and he is totally alone except for Daphne, an English girl who is the only survivor (except for the parrot) of a shipwrecked schooner. As they struggle to communicate and overcome their huge cultural differences, the arrival of traumatised refugees from other islands makes them find their own inner strengths and discover that they need to look into the past before they can face the future. Told with Terry Pratchett's usual light touch and sense of humour, this story takes a thought-provoking look at the effects of grief and loss and the strength of the human spirit.
(Unlike most of Terry Pratchett's other books, this book is not set on the Discworld. Instead, it takes place in an alternative reality to our own, sometime after the Napoleonic Wars).
10+
Buy from Amazon

Home Now
by Lesley Beake, illustrated by Karin Littlewood
(Frances Lincoln)
Set in a glowing Southern African landscape, this is an intensely moving book where the author leaves gaps for the reader to fill. Sieta lives with her Aunty in a place she calls 'Home Now', but, despite the friendliness of its people, she does not truly feel it is home, for she remembers another place back over the mountains where she once lived. That was before her head became filled with pictures – pictures of happy times before her parents got sick and died.
Then, one day, Sieta and her schoolmates are taken to visit an elephant park and there too the inhabitants have lost their families. Sieta meets Satara, the smallest elephant, recognising in him that sadness of loss. That recognition helps Sieta to start to move on, to begin to come to terms with the changes she has faced and to accept Aunty's love and her new life.
The vibrant watercolour shades of yellow, red, purple, green and orange in the scenes of township life contrast with the almost overwhelming expressions of sadness and loss in the faces of Sieta and Satara so movingly painted by Karin Littlewood.
A postscript from the author explains that there are millions of orphans like Sieta who have lost their parents to AIDS.
(reviewed by Jill Bennett)
Buy from Amazon

The Christmas Miracle of Jonathan Toomey
by Susan Wojciechowski, illustrated by P.J.Lynch
(Walker Books)
Jonathan Toomey, the woodcarver, seldom smiles and never laughs because he has never recovered from the death of his wife and baby son. Then the widow McDowell and her son Thomas ask him to carve them a wooden nativity site to replace one they have lost. As he works, their gentle friendship gradually thaws his frozen heart until the task of carving Mary with her baby forces him to finally face his grief. A beautifully written story with wonderful use of language that subtly reveals the changes in Jonathan and weaves in the love story without actually mentioning it. The text is much longer than most picture books so is suitable for older children and adults.
Ages 5-9+
Buy from Amazon

Wipe Out
by Mimi Thebo
(Collins)
How do you talk about your grief? How do you live when someone you loved is dead? How do you cope when you are an eleven year old boy? For one week we travel with Billy who has lost
his mother, Kitten Brown. Kitten was a tiger surfer winning Hawaii Tropic Open trophy. She's larger than life and twice as vibrant. For Billy, she's gone except when he dreams – large dreams, full of colour and surfing. And slowly his dreams and his life swap over. His life is made harder by his mother's last wish to have him stay with Aunty Mary before her funeral. With mum's death come questions. Will he and his father learn how to live without mum? Will they learn to talk to each other? And how can he leave Aunty Mary in her grey house with her budget life?
By the end of the book, everything has changed. We travel a lifetime with Billy's family and friends and you can't help liking him. Mimi Thebo writes powerfully and simply to produce
an honest book that captures the first painful days of a loved ones death. It's a boy's book, although surfer girls will relate to it, and it's a fantastic book for reluctant boy readers.
Ages 10+
(reviewed by Catherine Randle)
Buy from Amazon

Michael Rosen's Sad Book
words by Michael Rosen, pictures by Quentin Blake
(Walker Books) 0 7445 9898 2
Most writers of books about death for children use fiction as their vehicle, thus providing a secure 'space' apart, wherein young readers can explore so disturbing and difficult an experience. But, as we know story grows out of life, indeed all life is story, and what Michael Rosen shares with us is part of his story. Writing straight from the heart as a bereaved parent (his son Eddie died of meningitis aged eighteen) he tells it like it is for him; how his sadness and grief affect him in different ways at different times, and how he attempts to cope with these feelings – feelings that range through overwhelming, all engulfing sadness, despair, powerful anger, emptiness and haunting memories. Quentin Blake's illustrations are perfectly attuned with Rosen's feelings and emotions. In just eight frames over a double spread he chronicles Eddie's life from baby to teenager, with the final frame, unbearably blank. Shades of black and grey reflect the author's darkness and despair as it descends upon him until it blots out all colour. Colour only returns with the memories and candles; candles burning bright to keep the darkness at bay.
The synergy of Rosen's words and Blake's illustrations create what is a deeply affecting, profoundly moving book and one that resonates long after it has been put down.
(reviewed by Jill Bennett)
Buy from Amazon

Always and Forever
by Alan Durant, illustrated by Debi Gliori
(Doubleday)
Hare, Otter, Mole and Fox share a woodland home, loving and caring for each other as a family. Then, one autumn day Fox dies. All through the long winter the three friends grieve for their beloved Fox remembering all he did for them. A great sadness still pervades their home as winter turns to spring but a timely visit from Squirrel leads the three to a realisation that even though they can no longer see him, Fox is still very much there in their memories and in their hearts, even in their laughter, 'father of the house … always and forever.' Thus, ultimately the trio come to an understanding of the true and enduring meaning of friendship.
A poignant story that exudes warmth and tenderness through both words and pictures.
(Reviewed by Jill Bennett)
Buy from Amazon

Red Sky in the Morning
by Elizabeth Laird
(Macmillan Children's Books)
Everything changes when Anna's new baby brother, Ben, arrives. She adores
him but he is profoundly disabled because of hydrocephalus. The book intermingles
the ups and downs of adolescence with the story of her relationship with
Ben and her reaction to his death at the age of 2. Told in the first person,
it's a well written, strongly emotional but unsentimental book which gives
a clear account of grief and the impact of a sick child on a family. Have
the tissues handy.
Buy from Amazon

Starseeker
by Tim Bowler
(Oxford University Press)
Luke's life is shattered when his father dies and, despite being a talented pianist, his grief makes him lose interest in music and join up with a gang of young louts. When they encourage him to break into a house, he discovers a secret that leads him into deeper trouble but also helps him rediscover his joy in music. The situation is complicated by his mum's plans to remarry. Luke can't bear the thought of anyone taking his father's place but, when he meets an old woman who has never got over her own grief, he realises his mum needs to move on. This sensitive novel has a mystic quality interwoven with the action and the combined effect keeps you turning the pages.
Ages 9+
Buy from Amazon
You'll find other relevant titles on
Death of a Grandparent